Book On Demand: Pubblicare il tuo libro su Phasar Edizioni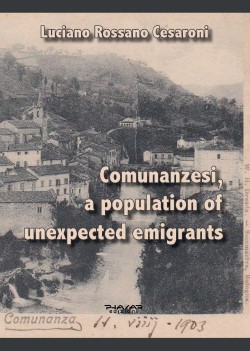 Comunanzesi, a population of unexpected emigrants
The English translation of a chapter of the larger work "The way home".
A historical reconstruction, accompanied by photos and documents of the time, which will lead you to the Comunanza of 1903, the year in which emigration to the United States had a great increase.
You will be close to the main families and you will relive the emotions that accompanied our young people on the long journey to reach a small village called Latrobe, near Pittsburgh in Pennsylvania.
You will discover how migratory flows, directed by some "commuters on the ocean", changed their destination when the Pittsburgh metal industry went into crisis heading towards Illinois, in particular towards Melrose Park, a town in the urban area of Chicago
Who knows what William Cesare Cesaroni, an American born in the distant Missouri, must have thought, when entering the town hall of Comunanza he was taken to the mayor's office?
The saying goes: "Home is the place where children are born and where loved ones are buried": in that small cemetery in Pennsylvania there are many familiar names.
Thus, the villages of Latrobe, Uniontown and Connellsville were replaced by Kenosha, Elkhart, and Melrose Park.

Luciano Rossano Cesaroni
was born in 1954 in Comunanza, a small town in the Marche close to Sibillini mountains.
Having a technical background, he has spent his professional life around the world of information technology. Now he resides in Inzago, close to Milan, where he cultivates his many passions, of which writing is the most important. This latter work is added to the historical novels
L'Alpino Giuseppe
,
Cercando la Merica
,
Fragments of life
, centered on values and memories of the native land, and to a short essay on astronomical physics entitled
Chasing the stars
.
Prezzo: 12,00
ISBN: 978-88-6358-748-7
PAGINE: 60
Anno pubblicazione: 2022
SE TI PIACE QUESTO LIBRO FORSE TI PIACE ANCHE...