Book On Demand: Pubblicare il tuo libro su Phasar Edizioni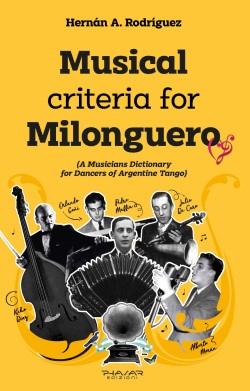 Musical criteria for Milonguero (a musicians dictionary for dancers of argentine tango)
Hernan Rodriguez makes a cabeceo to the whole milonga. He gives you an invitation as he opens the door to another night of tango. He welcomes all dancers to join his adventure.
The author describes an unprecedented tango universe; he deals with its history, lovingly describes tango music and shares his knowledge of the musical structures that characterize it. But what is the accompaniment, what is the principle or secondary melody?
What beautiful poetry can be generated by an instrumental solo, and how will the different ways of playing an instrument change it? The information he shares about musical details can be advantageous on the dance floor. The author knows that, through his experience, the more you listen the better you dance.And Hernan also tells us some tasty anecdotes!
In these pages you can experience the evolution of the world of tango from Hernan's unique point of view.
Prezzo: 22,00
ISBN: 978-88-6358-704-3
PAGINE: 256
Anno pubblicazione: 2022
SE TI PIACE QUESTO LIBRO FORSE TI PIACE ANCHE...